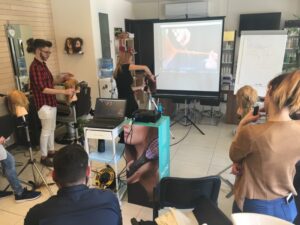 Women's hair cutting & styling trends spring-summer 2018 A seminar by Cortex 9th April 2018 On Monday, 9th April, Cortex
Read More »
Depot men's hair and beard styling trends for spring-summer 2018 Depot (mens) seminar by Cortex 5th March 2018 On Monday,
Read More »
Are you ready to illuminate your vibrance? Do you want natural highlights and shiny hair? Go ahead and ask your hairdresser which
Read More »
Have YOU been struck by Lightening? Decologic Lightening Hair Products Seminar by Cortex 5th February 2018 A brand new range
Read More »
Buy milk_shake leave-in treatments & support Pink October October is breast cancer awareness month, when the national Pink October campaign
Read More »
You *can* repair split ends … here's how! We feel you. We know the desperation that comes from dealing with
Read More »
Depot Barbering Course We have just had our first barbering basic course held by our Depot Trainer Clinton Attard. Training
Read More »
Please press link to download our pdf file oct 2016 Beauty Star Promo 2016
Read More »
12 September we had a great presentation and party of Depot male tools. Depot is a great line for men.
Read More »
We are very happy to introduce the Dafni Ceramic brush to Malta. The result is simply amazing and super fast.
Read More »
It's that time of the year again when we will have our technical seminar on Z.one concept hair products. This
Read More »